Maintaining Educational Relevance in Teletherapy
The COVID-19 pandemic has upended, among other things, the way school-based therapists provide services. How would you ensure that you are staying true to your calling of providing educationally-relevant services via teletherapy? Evidence that directly addresses this area is surely lacking, but there is research elsewhere that we can pull from to promote evidence-informed practices via teletherapy. So, Carlo approaches this webinar via clinical reasoning that connects the language of IDEA, these evidence-based therapeutic interventions, and the way we can plan for synchronous and asynchronous online therapy services. Time to hit PAUSE, REFRESH and appreciate the contributions we can make to improving the lives of our students with disabilities during these challenging times.
Closed Captioni in English available!
BONUS PRACTICAL TOOLKIT: Fillable Worksheet and Checklist for Maintaining Educational Relevance in Teletherapy
NOTE: This webinar and accompanying toolkit is free and available exclusively if you attend any of Apply EBP's upcoming The Well-Equipped Therapist! School-based OT and PT Hybrid Symposiums. It is not available as a stand-alone course.
TESTIMONIALS
What therapists say about Carlo's courses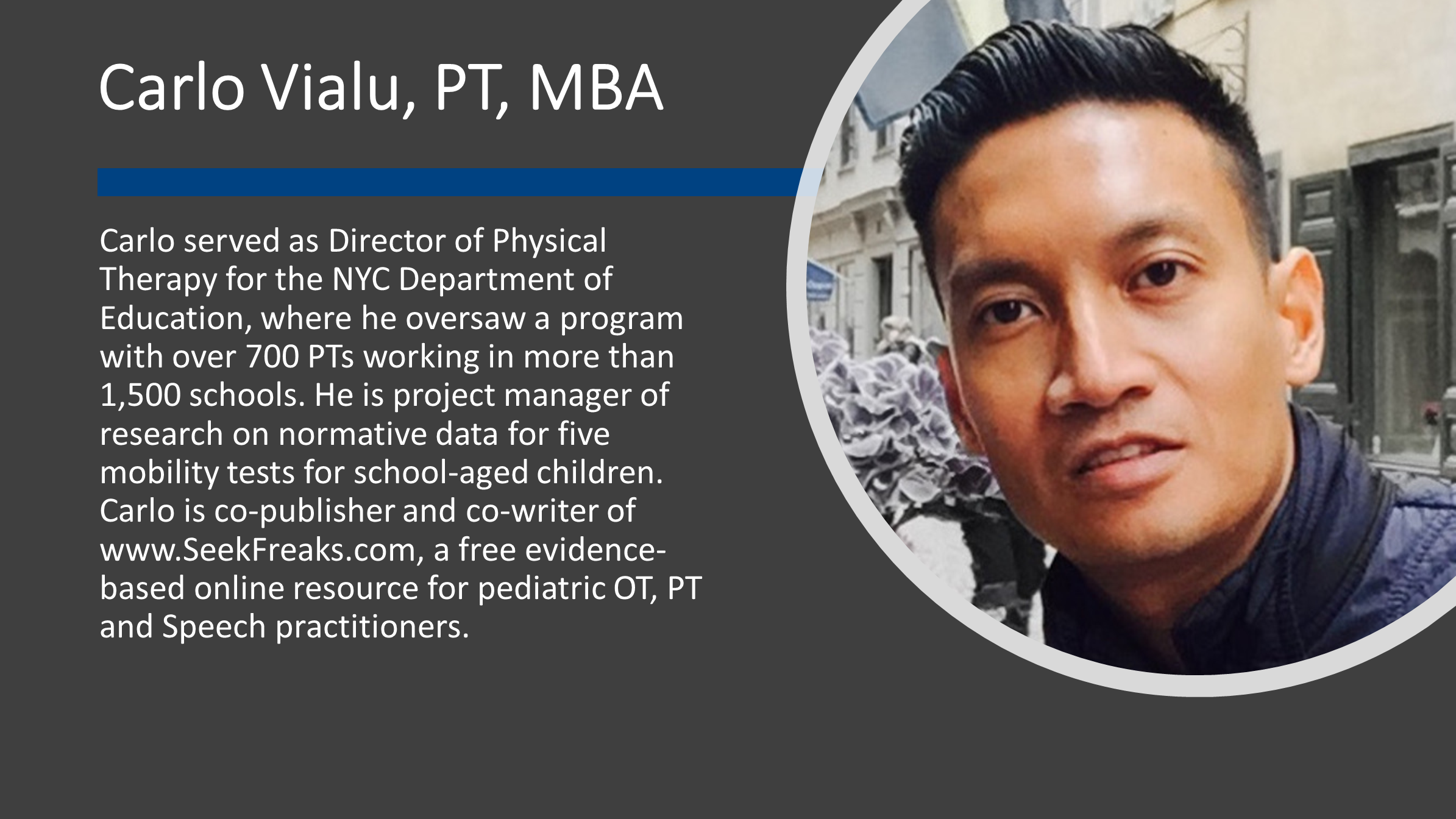 This was a great summary of relevant information to reframe our approach to supports and services in the shift to virtual practice.
– PT with 18 years experience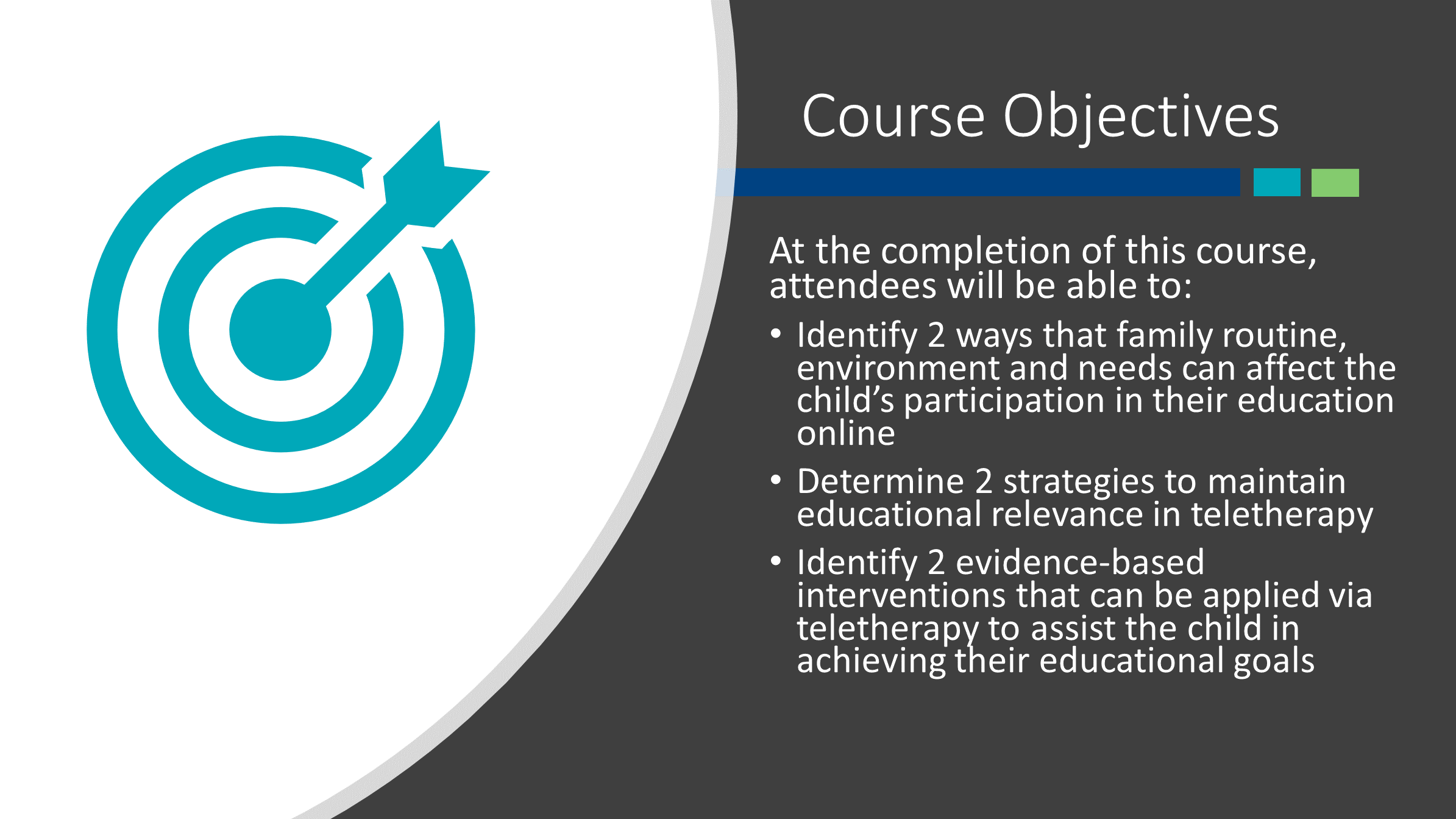 The inclusion of the family and home environment during this time is essential and this course did a great job highlighting the rationale for this.
- PT with 21 years of experience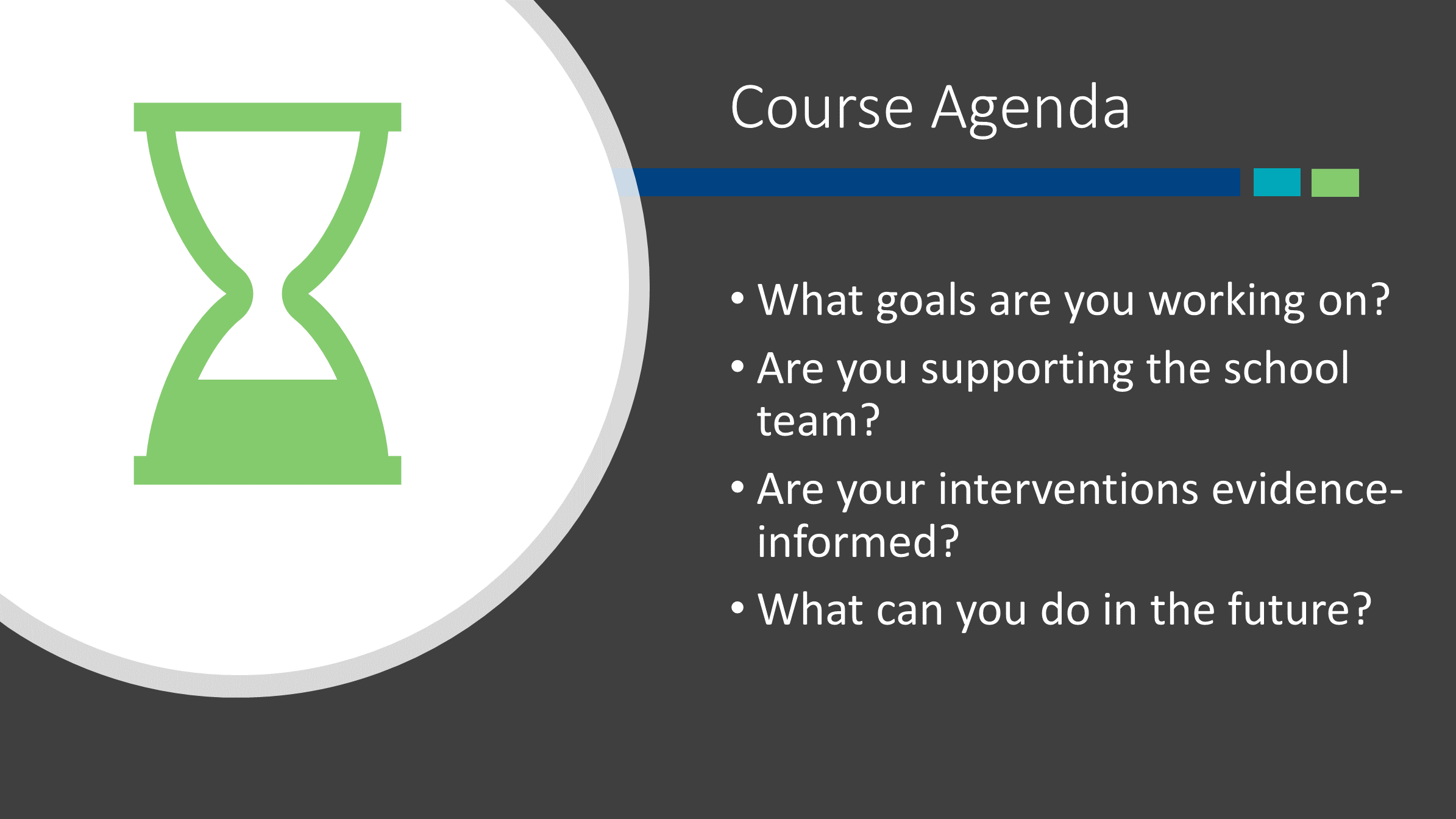 The information was concise and the handouts are very helpful. I will be applying the interventions to my tool box. 
- OT with 19 years experience
INSTRUCTOR: Carlo Vialu, PT, MBA served as Director of Physical Therapy for the NYC Department of Education, where he oversaw a program with over 700 PTs working in more than 1,500 schools. He is project manager of research on normative data for five mobility tests for school-aged children, & co-founder of www.SeekFreaks.com.
AUDIENCE: OTs, PTs, OTAs and PTAs
EDUCATIONAL LEVEL: Intermediate
COURSE OBJECTIVES
At the completion of the course, the learner is expected to:
Identify 2 ways that family routine, environment and needs can affect the child's participation in their education online

Determine 2 strategies to maintain educational relevance in teletherapy

Identify 2 evidence-based interventions that can be applied via teletherapy to assist the child in achieving their educational goals
AGENDA
What goals are you working on?
Are you supporting the team?
Are your interventions evidence-informed?
What can you do in the future?
Post-test: 10-item multiple choice. 70% correct answers required to receive a certificate
CEU
1.5 continuing education hours of training are awarded to learners who complete this course.
Apply EBP, LLC is an approved provider of CEUs for PTs and PTAs in IL, NY; and for OTs and OTAs in IN, IL, NY, and AOTA (see imprimatur below for details).
This course has been approved for PTs and PTAs in

AR, CA and TX (approval#

74093TX)

.

These OT state boards accept approval by AOTA, other state boards or associations: AL, AK, AR, DE, DC, FL, IL, IN, KY, LA, MD, MI, MN, MS, MO, MT, NV, NH, NM, NC, ND, OH, OR, OK, PA, RI, SC, SD, TN, TX, VT, VA, WI and DC.
These PT state boards accept approval by other states or AOTA: AK, AZ, DE, HI, IN, KY, MI, MT, NC, ND, OR, PA, TN, UT, VT, VA, WI, WY and DC.
These states do not require pre-approval of courses or have no CE requirements for OTs and OTAs: AZ, CA, CO, CT, GA, HI, ID, IA, KS, ME, MA, NE, NJ, UT, WA, WV and WY.
These states do not require pre-approval of courses or have no CE requirements for PTs and PTAs: AL, CO, CT, GA, IA, KS, ME, MA, MO, NE, NH, and WA.
If you would like to obtain CEUs for another state, please email us.
Learners must watch the video and complete course requirements, including scoring 70% or higher in the post-test to receive a certificate. Five (5) post-test retakes are allowed; if you exceed this limit, please email us.
POLICIES
You will have access to this course for at least 60 days.
There is no cancellation once course is purchased. Please email us if you have any questions.

Apply EBP, LLC abide by all provisions of the Americans with Disabilities Act (ADA). Apply EBP, LLC is committed to equal educational access for individuals with disabilities. Apply EBP, LLC does not discriminate against any individuals with disabilities from registering or attending any of our courses. We work closely with venues to ensure that facilities utilized are accessible. Individuals with disabilities are encouraged to contact us via

email

or phone (646-269-9039) with requests for accommodations. Apply EBP, LLC will make every effort to provide reasonable accommodations.