Evidence-based Practices for Indirect and Direct Services
Whether you are providing services directly or indirectly, you can be an evidence-based practitioner, and have your time valued by the IEP team! In this course, Peggy will utilize a case study to walk therapists through a clinical reasoning model to provide evidentiary support for your interventions. You will learn to plan a treatment sequence that closely adheres along the continuum of the least restrictive environment and provide a gamut of service from indirect and direct services. Peggy will then tie all the concepts learned via a flexible service delivery grid that will demonstrate to your team the value of your time and contributions for providing indirect and direct services to help your student's success in school. Carlo then provides a 2nd case study to further apply the clinical reasoning model to another student with motor goals.
Closed Captions in English available.
BONUS: PRACTICAL TOOLKIT Peggy's Clinical Reasoning Model - 3 Versions; Flexible Service Delivery Grid Decision-Making Chart
TESTIMONIALS
What therapists say about this courses
Peggy was personable and enjoyable. I felt like I was actually at a conference. 
- PT with 10 years experience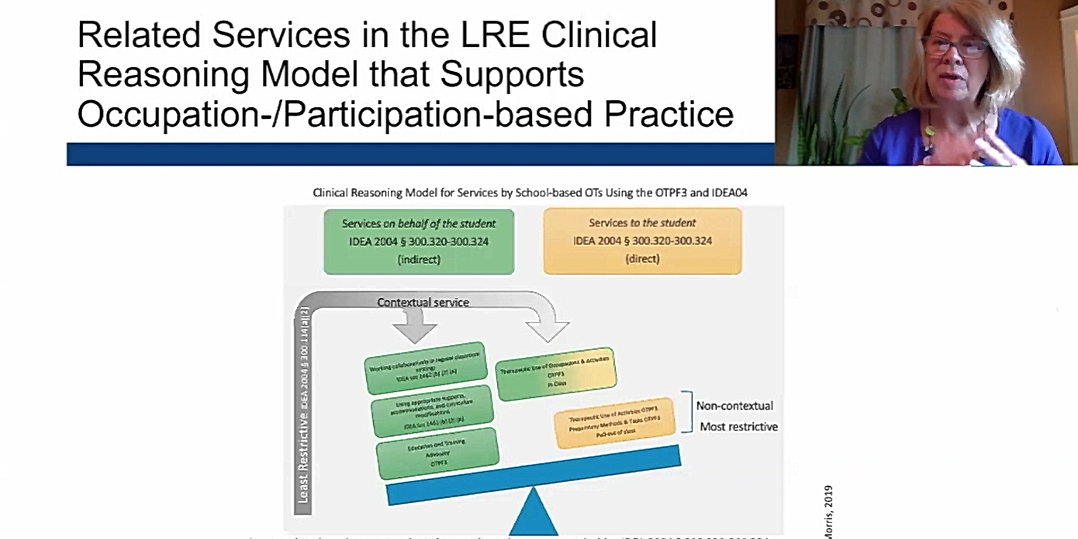 I found this to be a very informative and thought-provoking course which provided immediate ideas for many of my students.
- OT with 20 years experience
This topic has finally been demystified! Wonderful- love the case study and personal examples.
- OT with 25 years experience
INSTRUCTOR: Peggy Morris, OTD, OTR/L, BCP is an OT with 30+ years of peds experience in early intervention, private practice & out-patient, but most of her experience & passion is in school-based practice. She coordinates the post-professional MS and OTD programs & school-based certificate program at Tufts University. She is Board Certified in Pediatrics through the AOTA, and a regular SeekFreaks contributor.
With a 2nd Case Study Presented by: Carlo Vialu, PT, MBA served as Director of Physical Therapy for the NYC Department of Education, where he oversaw a program with over 700 PTs working in more than 1,500 schools. He is project manager of research on normative data for five mobility tests for school-aged children, & co-founder of www.SeekFreaks.com.
AUDIENCE: OTs, PTs, OTAs, PTAs, SLPs and Educators
EDUCATIONAL LEVEL: Intermediate
COURSE OBJECTIVES
At the completion of the course, the learner is expected to:
Select a service delivery model that supports an occupation-/participation-based area of interest for a client, given a case scenario

Identify the plan of treatment sequence that closely adheres to least restrictive environment continuum, given a case scenario

Determine the service delivery that supports indirect intervention 
AGENDA
Background: Clinical Reasoning Model that Supports Occupation- and Participation-based Practice: 12 minutes

Applying Evidence to Supports Indirect to Direct Service Delivery Models: 75 minutes

Flexible Service Delivery Grid: 13 minutes

2nd Case Study Application: 25 minutes

Post-test: 10-item multiple choice. 70% correct answers required to receive a certificate
CEU
2 continuing education hours of training are awarded to learners who complete this course.
Apply EBP, LLC is an approved provider of CEUs for PTs and PTAs in IL, NY; and for OTs and OTAs in IN, IL and AOTA (see imprimatur below for details).
This webinar is approved for PTs and PTAs in AR, CA and TX (

Approval #74167TX)

.

These OT state boards accept approval by AOTA, other state boards or associations: AL, AK, AR, DE, DC, FL, IL, IN, KY, LA, MD, MI, MN, MS, MO, MT, NV, NH, NM, NY, NC, ND, OH, OR, OK, PA, RI, SC, SD, TN, TX, VT, VA, and WI.
These PT state boards accept approval by other states boards, other state associations, or AOTA: AK, AZ, DE, FL, HI, IN, KY, MI, MT, NC, ND, OR, PA, RI, SD, TN, UT, VT, VA, WI, WY and DC.
These states do not require pre-approval of courses or have no CE requirements for OTs and OTAs: AZ, AR, CA, CO, CT, GA, HI, ID, IA, KS, ME, MA, MN, MO, NE, NJ, NV, NH, NC, ND, OH, OR, SC, SD, TN, TX UT, VT, WA, WV, WI and WY.
These states do not require pre-approval of courses or have no CE requirements for PTs and PTAs: AL, CO, CT, GA, IA, KS, ME, MA, MO, NE, NH, and WA.
If you would like to obtain CEUs for another state, please email us.
Learners must watch the video and complete course requirements, including scoring 70% or higher in the post-test to receive a certificate. Five (5) post-test retakes are allowed; if you exceed this limit, please email us.
POLICIES
You will have access to this course for at least 60 days.
There is no cancellation once course is purchased. Please email us if you have any questions.

Apply EBP, LLC abide by all provisions of the Americans with Disabilities Act (ADA). Apply EBP, LLC is committed to equal educational access for individuals with disabilities. Apply EBP, LLC does not discriminate against any individuals with disabilities from registering or attending any of our courses. We work closely with venues to ensure that facilities utilized are accessible. Individuals with disabilities are encouraged to contact us via

email

or phone (646-269-9039) with requests for accommodations. Apply EBP, LLC will make every effort to provide reasonable accommodations.
Add HTML and/or Liquid to build your own custom block. Any change made via custom HTML/Liquid cannot be ensured for full compatibility with current or future versions of Teachable.