Implementing Assistive Technology for Students with Multiple Disabilities 
So, you received a student's assistive technology (AT) for mobility, standing, sitting and/or toileting – how can you ensure that the student gets the maximum benefit from it? This seminar will discuss the successful implementation of AT to improve school access and participation for students with multiple disabilities. Karen will show case vignettes and videos illustrating the incorporation of these equipment into a student's daily class routine. Participants will learn strategies to address barriers to AT implementation and ensure frequent use during the school day or week.
Closed Captioned in English.
BONUS: PRACTICAL TOOLKIT -Worksheets and Charts for Explaining AT Benefits, Choosing and Dosing for Standers, Barriers and Solutions, Organization & Scheduling; Assessment Tools
TESTIMONIALS
What therapists say about this course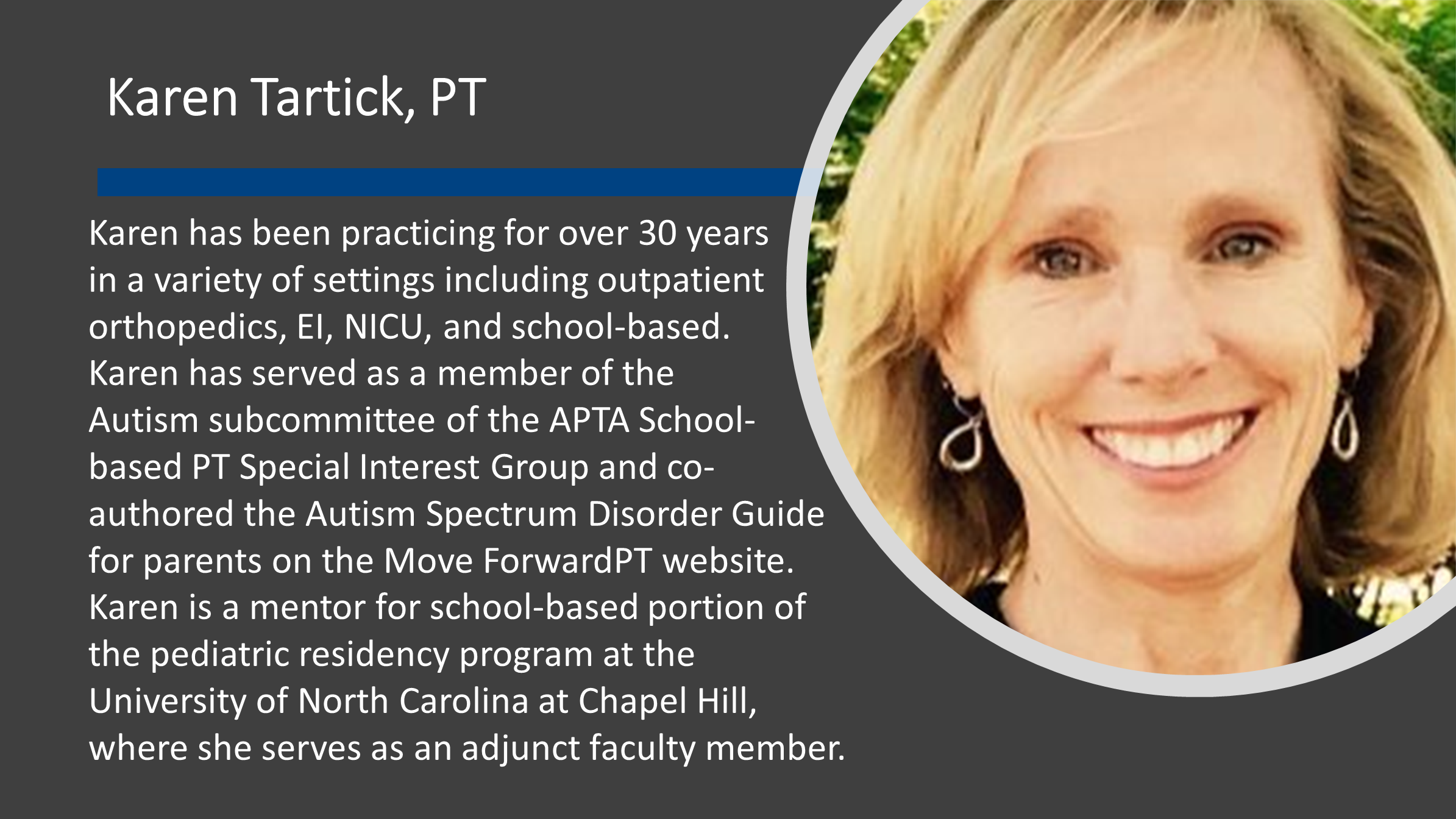 Love hearing your thought process and case studies, they are so great!
- PT with 5 years of experience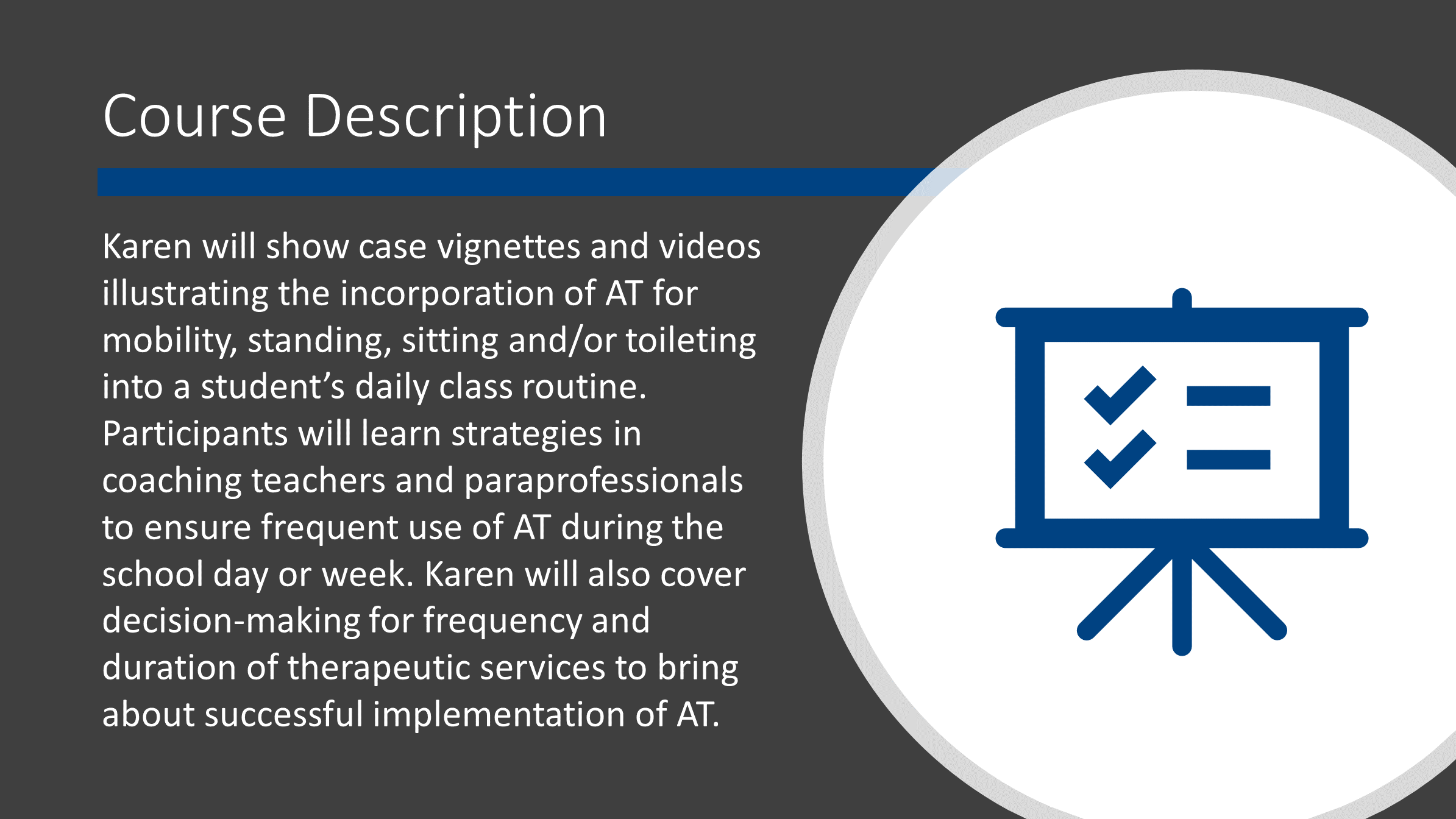 This was applicable for my practice with multiple-needs students, I appreciated seeing all the equipment options and who would most benefit from them!
- PT with 24 years of experience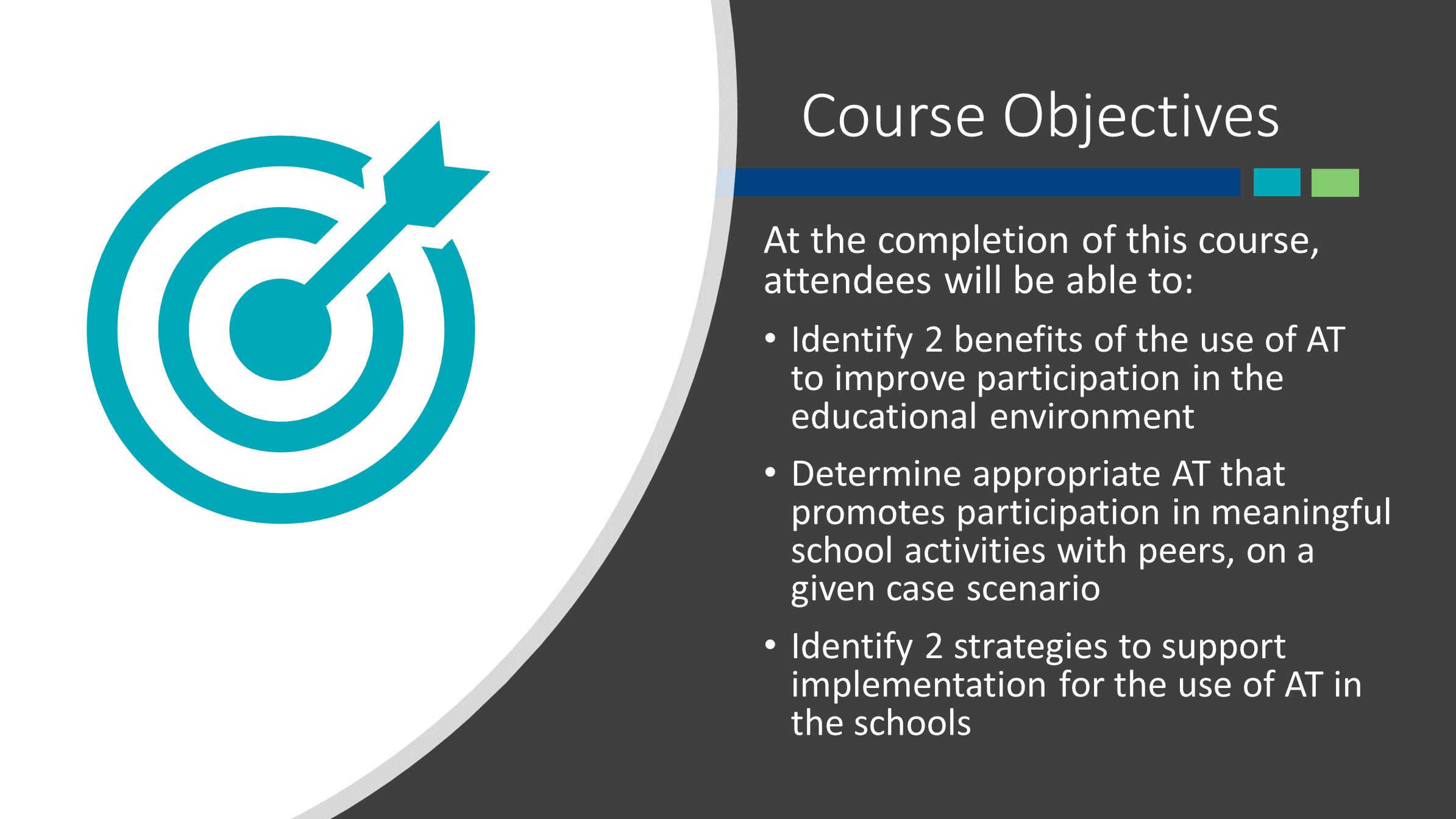 I really liked seeing different pieces of equipment, organization systems/schedules and ideas for team to buy in.
- PT with 9 years of experience
INSTRUCTOR: Karen Tartick, PT has been practicing for over 30 years in a variety of settings including outpatient orthopedics, early intervention, acute care, NICU, and school-based physical therapy. She currently practices in the Durham Public Schools in Durham, NC. Karen has served as a member of the Autism subcommittee of the School Based Physical Therapy Special Interest Group, and co-authored the Autism Spectrum Disorder Guide for parents on the Move ForwardPT website, the APTA's consumer webpage. Karen is an APTA Advanced Clinical Instructor, and a mentor for school-based portion of the pediatric residency program at the University of North Carolina at Chapel Hill, where she serves as an adjunct faculty member. 
AUDIENCE: OTs, PTs, OTAs, PTAs, and Educators
EDUCATIONAL LEVEL: Intermediate
COURSE OBJECTIVES
At the completion of the course, the learner is expected to:
Identify 2 benefits of the use of assistive technology to improve participation in the educational environment

Determine appropriate assistive technology that promotes participation in meaningful school activities with peers, on a given case scenario

Identify 2 strategies to support implementation for the use of assistive technology in the schools
AGENDA
Assistive Technology and Children with Multiple Disabilities
Implementing AT for Mobility, Standing, Sitting & Toileting
Case Study Application
Post-test: 10-item multiple choice. 70% correct answers required to receive a certificate
CEU
1.5 continuing education hours of training are awarded to learners who complete this course.
Apply EBP, LLC is an approved provider of CEUs for PTs and PTAs in IL, NY; and for OTs and OTAs in IN, IL, NY, and AOTA (see imprimatur below for details).
This webinar is approved for PTs and PTAs in AR and CA.
These OT state boards accept approval by AOTA, other state boards or associations: AL, AK, AR, DE, DC, FL, IL, IN, KY, LA, MD, MI, MN, MS, MO, MT, NV, NH, NM, NC, ND, OH, OR, OK, PA, RI, SC, SD, TN, TX, VT, VA, WI and DC.
These PT state boards accept approval by other states boards or AOTA: AK, AZ, DE, HI, IN, KY, MI, MT, NC, ND, OR, PA, RI, TN, UT, VT, VA, WI, WY and DC.
These states do not require pre-approval of courses or have no CE requirements for OTs and OTAs: AZ, CA, CO, CT, GA, HI, ID, IA, KS, ME, MA, NE, NJ, UT, WA, WV and WY.
These states do not require pre-approval of courses or have no CE requirements for PTs and PTAs: AL, CO, CT, GA, IA, KS, ME, MA, MO, NE, NH, and WA.
If you would like to obtain CEUs for another state, please email us.
Learners must watch the video and complete course requirements, including scoring 70% or higher in the post-test to receive a certificate. Five (5) post-test retakes are allowed; if you exceed this limit, please email us.
POLICIES
You will have access to this course for at least 60 days.
There is no cancellation once course is purchased. Please email us if you have any questions.

Apply EBP, LLC abide by all provisions of the Americans with Disabilities Act (ADA). Apply EBP, LLC is committed to equal educational access for individuals with disabilities. Apply EBP, LLC does not discriminate against any individuals with disabilities from registering or attending any of our courses. We work closely with venues to ensure that facilities utilized are accessible. Individuals with disabilities are encouraged to contact us via

email

or phone (646-269-9039) with requests for accommodations. Apply EBP, LLC will make every effort to provide reasonable accommodations.
Other Apply EBP Webinars for You
Expand your knowledge of tools and strategies for children and youth with medical complexity