The IEP and Me
This course is focused on the development of the Individualized Education Program (IEP) document, the IEP meeting process and the implementation of the IEP, and your contribution in each of these as a related service provider. Jen will provide guidance and examples on completing various parts of the IEP document, such as the Present Level of Performance, Annual Goals and Progress Reporting, via a case study of a student receiving OT, PT and Speech services. Jen will also discuss other aids and services that may be included in the IEP, such as assistive technology, accommodations and modifications. Finally, she will present on the implementation of the IEP by discussing the plan of care, supervising therapy assistants, workload versus caseload, scheduling considerations, direct interventions and services on behalf of the student.
BONUS PRACTICAL TOOLKIT: Resources: IDEA-IEP Quick Links; Checklist: Measurable Annual Goals; Fillable Worksheet: Present Level of Academic and Functional Performance
TESTIMONIALS
What therapists say about Jen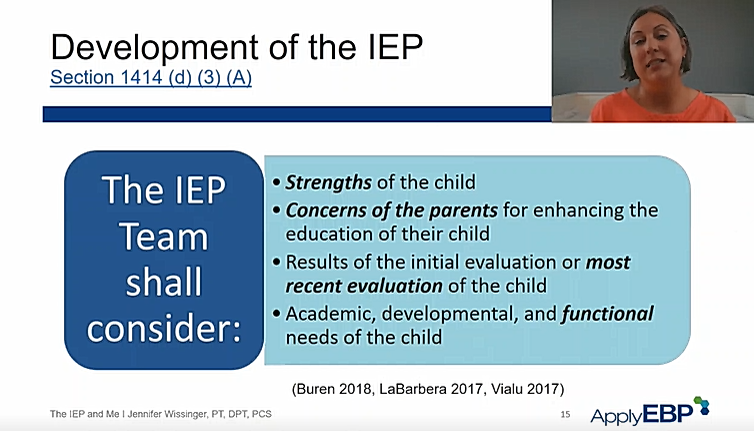 Comprehensive overview of the IEP process, including collaborative planning and implementation ideas.
- PT with 35 years experience
Very engaging and brought good real-life experiences into the course!
- OT with 5 years experience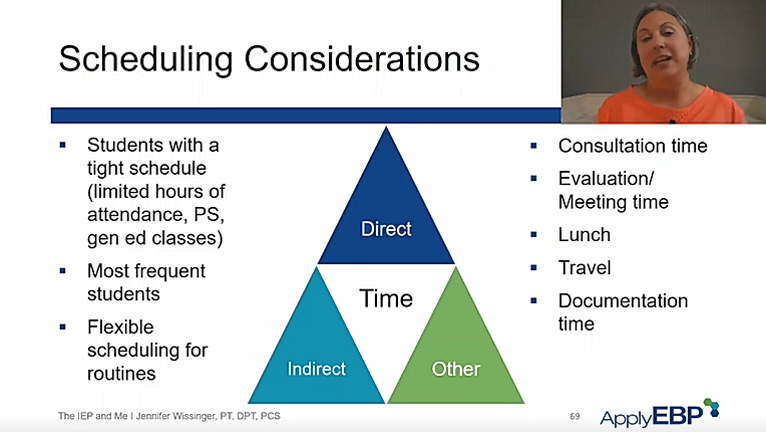 Thank you for delivering this valuable information in such a clear way! 
- PT with 3 years experience
INSTRUCTOR: Jennifer Wissinger, PT, DPT serves early intervention and preschool children in Columbus, OH. She is a Board-Certified Clinical Specialist in Pediatric Physical Therapy with over 15 years of experience practicing in public schools (preschool through high school), county board of developmental disability programs for adults, home health care, and early intervention. She has served as an instructor in the pediatric curriculum in the physical therapy program at Ohio State University, a mentor in a pediatric residency program, and in leadership roles in the Academy of Pediatric Physical Therapy. She enjoys engaging learners of all levels to use evidence and to work collaboratively in teams to serve children and their families.
AUDIENCE: OTs, PTs, OTAs, PTAs, SLPs and Educators
EDUCATIONAL LEVEL: Beginner/Introductory
COURSE OBJECTIVES
At the completion of the course, the learner is expected to:
Recognize two opportunities for collaboration in the IEP development process. 
Identify examples of related service provider's contribution to two sections in the IEP to support the team and the education of a student with a disability in school.
Select two examples of how a related service provider can address participation through service delivery as part of a team in an educational setting.
AGENDA
Background - The purpose of the IEP
The Role of the Team - How the Team creates a collaborative plan
The Parts of the IEP - Section details
Implementing the Plan - The day to day components
Post-test: 10-item multiple choice. 70% correct answers required to receive a certificate
CEU
1.5 continuing education hours of training are awarded to learners who complete this course.
Apply EBP, LLC is an approved provider of CEUs for PTs and PTAs in IL, NY; and for OTs and OTAs in IN, IL, NY, and AOTA (see imprimatur below for details).
This course has been approved for PTs and PTAs in AR and CA. board.
These OT state boards accept approval by AOTA, other state boards or associations: AL, AK, AR, DE, DC, FL, IL, IN, KY, LA, MD, MI, MN, MS, MO, MT, NV, NH, NM, NC, ND, OH, OR, OK, PA, RI, SC, SD, TN, TX, VT, VA, WI and DC.
These PT state boards accept approval by other states boards or AOTA: AK, AZ, DE, HI, IN, KY, MI, MT, NC, ND, OR, PA, RI, TN, UT, VT, VA, WI, WY and DC.
These states do not require pre-approval of courses or have no CE requirements for OTs and OTAs: AZ, CA, CO, CT, GA, HI, ID, IA, KS, ME, MA, NE, NJ, UT, WA, WV and WY.
These states do not require pre-approval of courses or have no CE requirements for PTs and PTAs: AL, CO, CT, GA, IA, KS, ME, MA, MO, NE, NH, and WA.
If you would like to obtain CEUs for another state, please email us.
Learners must watch the video and complete course requirements, including scoring 70% or higher in the post-test to receive a certificate. Five (5) post-test retakes are allowed; if you exceed this limit, please email us.
COURSE RECOMMENDATIONS: Expand your knowledge of school-based decision-making with these courses:
POLICIES
You will have access to this course for at least 60 days.
There is no cancellation once course is purchased. Please email us if you have any questions.

Apply EBP, LLC abide by all provisions of the Americans with Disabilities Act (ADA). Apply EBP, LLC is committed to equal educational access for individuals with disabilities. Apply EBP, LLC does not discriminate against any individuals with disabilities from registering or attending any of our courses. We work closely with venues to ensure that facilities utilized are accessible. Individuals with disabilities are encouraged to contact us via

email

or phone (646-269-9039) with requests for accommodations. Apply EBP, LLC will make every effort to provide reasonable accommodations.